Dave Hughes' 2018 Logies monologue hit Karl Stefanovic and #ubergate.
For everything on the Logies 2018, the Logies red carpet, your 2018 TV Logie awards winners and all the 2018 TV Week Logies behind-the-scenes goss, visit our Logies 2018 homepage.
It was the moment we all knew was coming, and while delivering the opening monologue, Dave 'Hughesy' Hughes went there.
And he went there hard.
Dredging up #ubergate, Hughesy went guns blazing and joked about the situation when an Uber driver recorded' a conversation between Karl and Peter Stefanovic in which the brothers were caught complaining about their high profile colleagues.
It was just as well the Today Show host was at the awards ceremony and sharing a table with his younger brother and co-host Georgie Gardner.
"You shouldn't have been bitching about your work colleagues. You shouldn't have," lectured the comedian.
"I'm sure Georgie is very happy, isn't she there. Still on the fence Georgie or did you take a pale off it and hit him in the head with it?" continued Hughesy, referencing when Stefanovic accused his colleague of "sitting on the fence".
It was at that moment that Karl and Georgie shared a very pointed look as they laughed across the table they shared, no doubt having prepared themselves for this moment.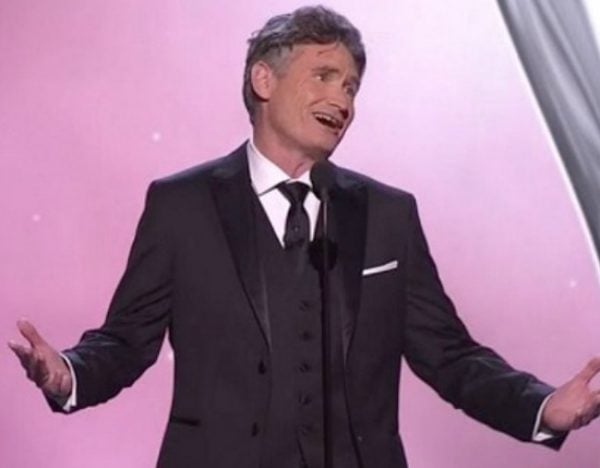 Hughesy also had some advice for the breakfast presenter, just in case either of the Stefanovic brothers found themselves in a repeat situation of that night.
"Whether it's an cab or Uber mate, leave a tip," he said.
"[Then] they don't have to make any extra money. Selling the story to New Idea. Leave a tip."
No doubt, bracing themselves for this moment, the older Stefanovic brother laughed along the opening monologue while Gardner also took it in good humour, with only a few (understandable) side-eye filled smiles.
The people of Twitter were ready for the moment too:
Living for the uncomfortable viewing of Hughesy skewering the Stefanovic brothers in front of Georgie Gardner #logies

— Julia (@Julaberry) July 1, 2018
Love @DHughesy roasting @karlstefanovic. I've missed good ol Australian humour on TV. #TVWeekLogies

— Whitney King (@R_WhitneyKing) July 1, 2018
Georgie Gardner's look to Karl just then needs to be a gif ASAP #Logies2018

— Liam Ayres (@liamvayres) July 1, 2018
Speaking to Hughesy and Kate Laenbrook on their Hiit network radio show earlier this week, Stefanovic complimented how Gardner handled the controversy.
"Georgie was so incredibly good about that … I thought she was going to hit me," he told the radio hosts.
Recalling the moment she found out about the moment, Gardner said it took her a while to realise what was going on.
"I remember thinking to myself, 'Gee, I wonder who that is?' And then it became apparent it was us," she said.
However, getting in the last work, Stefanovic responded his own way, sharing a photo of him and his brother. See if you can spot the cheeky caption.
What did you think of Dave Hughes' roast?