Skyscraper movie review starring Dwayne Johnson and Neve Campbell.
If you didn't know any better, actress Neve Campbell's Hollywood story could read like a real tragedy.
Once upon a time, she was one of the most recognisable and beloved faces on TV, thanks to playing Julia Salinger on the hit 90's drama Party of Five while also shooting to mega fame on the big screen after a truly iconic turn as the "ultimate final girl" Sidney Prescott in the Scream franchise.
While she has not dropped completely off the radar since the last Scream movie was released in 2011, (she recently appeared on House of Cards),  it's also hard to ignore the fact that her name has not been up in lights on a blockbuster movie poster, or listed first on a TV series call sheet, since that year.
Her "disappearance" from Hollywood could be chalked up to a number of things, including the fact that she could have been overlooked for certain roles due to being so closely aligned with such a popular franchise.
After all, in 2011 she spoke to The Guardian  about struggling to land roles after only being seen as a teenage slasher victim, saying "the first Scream was great for me in some ways, but in others it was… a challenge. People did pigeonhole me."
A comment like that followed by a hiatus from the big screen certainly begs an uncomfortable question…how could Hollywood not have a swag of roles at the ready for an actress of the calibre of Neve Campbell?
And while we may never know the exact circumstances that led to her absence, there is a clue in the way she speaks about her latest blockbuster movie role that goes a long way to explaining the path her career has taken.
The 44-year-old actress wasn't out for the count when it came to movie roles in general, she was simply biding her time until a role like this came along for her.
You see, it's not an overstatement to say that Campbell's role as Sarah Sawyer in the new action flick Skyscraper is the missing puzzle piece when it comes to the challenge of finally achieving a well-rounded and relatable portrayal of female characters in action movies.
Before she was brought on board to star opposite Dwayne Johnson in Skyscraper, Campbell had no interest at all in playing any kind of movie role that skewed towards being a damsel in distress or a background love interest.
"I was elated when I found out I was going to be in this film," Campbell told Mamamia. "All because of the message of the movie, the fact that a woman can be true bad ass in an action movie and not just the victim. It's always really gratifying to read a script where your character is not the damsel in distress. Instead she is capable, she is courageous and she is strong. She gets to fight back and win in the end.
"I have this seen with (actress) Hannah Quinlivan in the film where have a very bad-ass action sequence together which all takes place entirely inside a car . In that scene we are equally strong with one another and it's wonderful to be able to represent women like that. I hope this is the type of film and the type of character that will inspire women."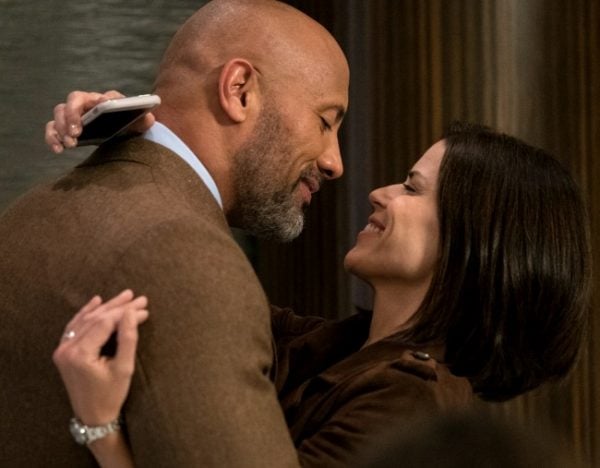 Campbell is also not shy about the fact that working with Dwayne Johnson, the undisputed current king of Hollywood blockbusters and one of the few stars in recent memory still able to "open a movie", was a major draw-card for her.
"I really loved my screen test with Dwayne," Campbell said with an almost reverent tone to her voice. "We had really good chemistry together straight away. The dynamic during our improv was really great and it's exciting as an actor when you genuinely feel a vibe with the person you are working with, because that doesn't happen all the time.
"Dwayne is very enthusiastic about creating good work and….honestly, look, it's a big action movie with Dwayne Johnson, who is one of the biggest stars in the word right now. Of course I was excited."
In Skyscraper Johnson plays former FBI agent Will Sawyer who, along with Campbell's Sarah and their twins Georgia (McKenna Roberts) and Henry (Noah Cottrell), are staying in the world's tallest skyscraper thanks to his job as the building's security officer.
The skyscraper , known as "The Pearl", houses several floors that function as their own society, with the creators insisting that the expansive building is impenetrable. However, when the building suddenly comes under attack by terrorists, the Sawyer family find themselves trapped inside as the building catches fire and begins to topple to the ground.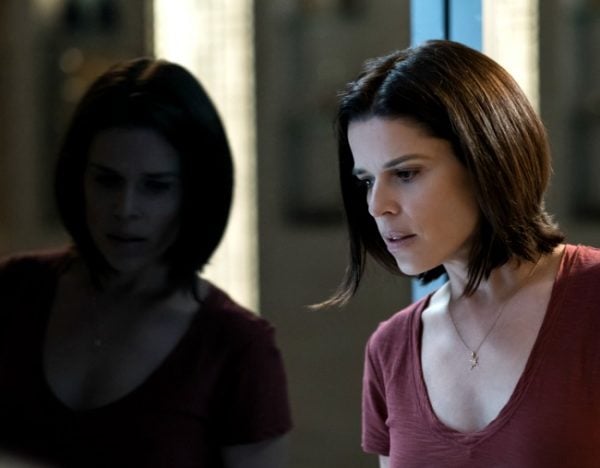 While some of the action sequences are so insane and unrealistic you will find yourself smiling up at the screen as the actor formerly known as "The Rock" literally propels himself from the top of an industrial crane to the top floors of the building with only the power of positive thinking to guide his way, other scenes will make your toes curl and twinge with fright.
Especially if you are already nursing a deep-seated fear of heights.
Many of these scenes, the ones more rooted in realistic horror and true fear, are anchored by Campbell who performs a series of stunts alongside her two young co-stars.
Stunts that, at times, ended up nearly literally breaking her in half.
"The scenes with the pyrotechnics were very intense to film because we had to be very high up, but we were certainly safe despite all the fire," she said. "For me, the challenge was always to make sure that the kids were safe and that they were never scared.
"There were certain stunts that made me nervous. There is a scene where I have to walk across a beam over fire and I have to fall. So I was trying not to injure myself too badly during those moments. There was one point where I did injure my back, but that was because I was carrying Noah for so long.
"But, I was a ballet dancer before I was an actor so I love a physical challenge and I always wanted to do an action movie for that reason. And look, it's one of those movies where if you do have a fear of heights…you are going to want to close your eyes during some parts of it."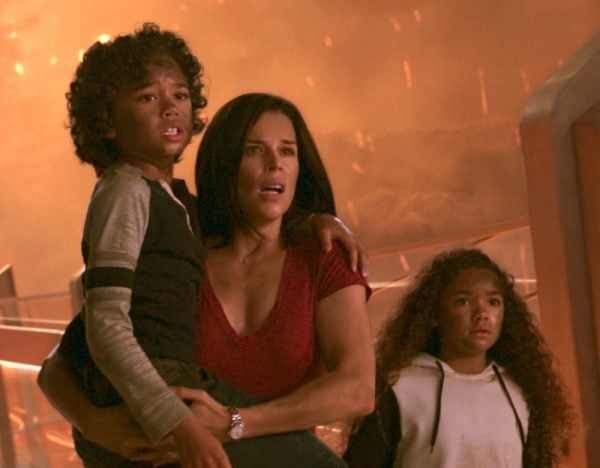 In the film, Campbell's Sarah is a whip-smart, bilingual military surgeon (her husband fell in love with her after she pieced his body back together following an explosion, #romantic) and a protective and fierce mother to her daughter and son.
The responsibilities, hardships and immense love that come with motherhood were on the forefront of Campbell's mind during the filming and promotion of the film, since it coincided with going through the process of adoption and then welcoming a little boy named Raynor into her family.
Campbell, who is also a mother to a six-year-old boy called Caspian with longtime partner JJ Feild, said the adoption process was "the most incredible thing we've experienced. We're so grateful for this beautiful light coming into our lives and we think of and are grateful to his birth family every day for such an incredible gift".
It's a sentiment she said she fully drew upon every time "action" was yelled on set.
"I think any parent thinks about what they would do if their kids were in grave danger," said Campbell thoughtfully. "We all have that really strong mama bear or papa bear instinct. So it wasn't difficult for me to imagine what I would need to do if my children were in danger. 
"I was just really honored to play a character like this in a movie you might not expect this type of character to be from, it's everything you'd expect from a Dwayne Johnson action movie, but also filled completely with heart and the importance of family."
It's true that her character veers away from being either a cookie-cutter love interest or a leather clad, ass-kicking sex symbol, which are the two female troupes usually presented in an action films.
Once you truly see Neve Campbell back in action, you'll see why she waited so long to return to the big screen, and you'll also thank God that she did.
Skyscraper will be released Australia-wide on Thursday 12 July. It is rated M. 
For more stories like this, you can follow writer and Mamamia Entertainment Editor Laura Brodnik on Facebook.