Snapchat Under Fire After Map Shows New York Renamed 'Jewtropolis'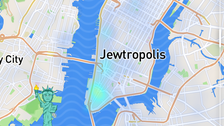 Snapchat found itself the target of social media outrage on Thursday morning after some users noticed that New York had been renamed "Jewtropolis" on its maps feature.
Hey there! Thanks for letting us know. Snap Map relies on third party mapping data which has unfortunately been subject to vandalism. We are working with our partner Mapbox to get this fixed immediately.

— Snapchat Support (@snapchatsupport) August 30, 2018
Users also pointed out the issue on StreetEasy and Citi Bike, which use Mapbox as well. However, the misnomer did not appear to be an issue on some of Mapbox's other clients, including Lyft, Foursquare and The Weather Channel.
Mapbox did not respond to a request for comment.