teenager arrested after 6yo girl murdered in Bute.
Outside Angela King and Calum MacPhail's home on Scotland's Isle of Bute sits a colourful pile of flowers, teddies and toys; a makeshift memorial to their six-year-old granddaughter, Alesha. Among the mementos piled on the pavement lays a Cinderella doll and a hand-written note:
"Sleep tight little princess, you'll never be forgotten."
Alesha MacPhail's body was discovered in nearby woodland on Monday morning, just hours after her grandparents Angela King, 46, and Calum MacPhail, 49, reported her missing from their Port Bannatyne home. News of her death shocked the island's small community, but the blows kept coming.
On Thursday evening, local police announced that they had arrested and charged a suspect – a boy, aged just 16, who is reportedly known to the family.
The disappearance.
The primary school pupil from Airdrie, North Lanarkshire, was just a few days into a three-week summer holiday at her grandparents' place with her 25-year-old father, Rab, when she was killed.
According to The Telegraph, the little girl would visit her relatives on the west-coast island often, and even had her own bedroom on the top floor of the MacPhail's home.
"They're a nice, honest family and they've had more than they deserve," neighbour Rosemary Lonie said. "You usually see Alesha with her granddad, he absolutely adores her."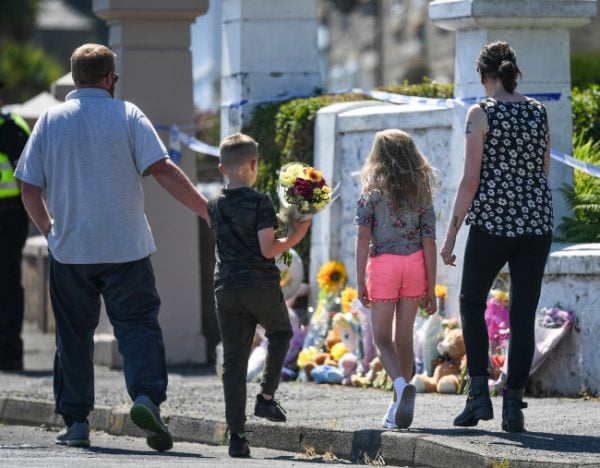 It was Alesha's adoring grandparents who called authorities at 6:25am Monday, after they woke to find her bed empty. An intensive search was mounted by local police, appeals were posted to social media by relatives.
It was reportedly because of those appeals, that Alesha's mother, Georgina Lochrane, learned her little girl had vanished.
Seventy kilometres away in Airdrie, the 23-year-old posted to her own account, urging "someone to tell me what's happened", The Independent reported.
But by then, it was too late. According to the paper, a passerby had already made the devastating discovery on the grounds of the derelict Kames Hydro Hotel, just 1.6km from where the six-year-old had been staying.
The arrest.
The precise circumstances of Alesha's disappearance and death are yet to be released. But on Wednesday evening police arrested their teenage suspect. The 16-year-old has been detained on unknown charges, and is due to face court Friday, local time.
Announcing the arrest, Det Supt Stuart Houston expressed his gratitude to the local community for their support and assistance during the investigation.
"I'd like to take this opportunity to personally thank Alesha's family, who have shown incredible bravery through what has been an unimaginable ordeal during these past few days," he said in a statement.
Two days earlier, flanked by police officers and supported by her partner, George Horn, Georgina Lochrane travelled to Bute where she visited the shrine created for her daughter.
According to The Sun, she stopped to read notes left for Alesha, before tearfully placing a tribute of her own – her little girl's school portrait.